Current Issues (2022)
Volume 21, Number 1, Janaury 2022
Volume 21, Number 2, February 2022
Volume 21, Number 3, March 2022
Volume 21, Number 4, April 2022
Volume 21, Number 6, June 2022
Volume 21, Number 7, July 2022
Volume 21, Number 8, August 2022
Volume 21, Number 9, September 2022
Volume 21, Number 10, October 2022
Volume 21, Number 11, November 2022
Volume 21, Number 12, December 2022
Archives
Volume 1, 2002
Volume 2, 2003
Volume 3, 2004
Volume 4, 2005
Volume 5, 2006
Volume 6, 2007
Sample issue: Volume 5, No 1, January 2006
Aims and Scope
Empirical Economics Letters (EEL) is a fully refereed international journal. The EEL invites papers on all aspects of empirical economics and finance. There is no specific deadline for submission of papers. Papers can be sent any time and will be considered for the subsequent issues. All papers must have an empirical content and the theoretical models on which the empirical results are based should be clearly, but briefly, stated.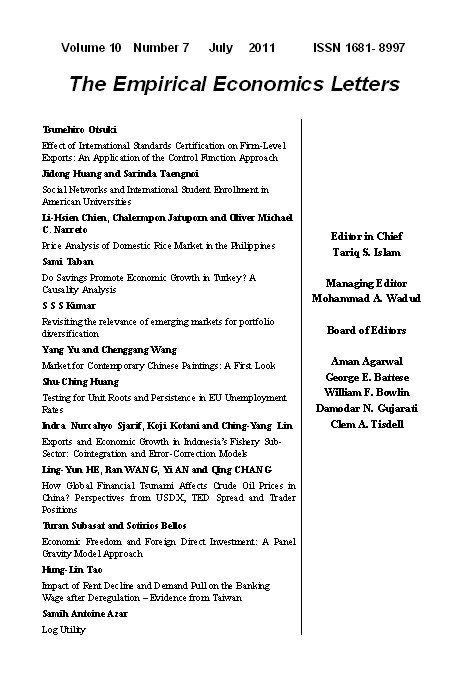 Publication Information
EEL is published each month, that is, twelve times a year.
Indexing Information
EEL is listed in the American Economic Association (AEA) electronic indexes, which are included in JEL on CD, e-JEL, and EconLit. It is also included in Cabell's Directory of Publishing Opportunities in Economics and Finance.
EEL is further included in ABDC journal quality list. Furthermore, this journal is approved for International Scientific Indexing (ISI) and being indexed soon.
Furthermore, this journal is listed in the ERA (Excellence in Research for Australia).
Editorial Board
Aman Agarwal
GGS Indraprastha University
India
Clem A. Tisdell
University of Queensland, Australia
Damodar N. Gujarati
US Millitary Academy, U.S.A.
George E. Battese
University of New England, Australia
William F. Bowlin
University of Northern Iowa, U.S.A.
Managing Editor (and Correspondence)
Mohammad A. Wadud
Department of Economics
University of Rajshahi
Rajshahi 6205
Bangladesh
Email: wadud68@yahoo.com